You have been entirely dreaming of visiting the land of Rising Sun.  One day you fulfill that childhood (child-like) wish of  meeting Mickey and friends at Disneyland and Disney Sea. Enticed by a picturesque landscape of Mt. Fuji with cherry blossoms on the foreground. Probably, cosplaying as a samurai and took a photo at Bamboo forest of Arashiyama for that authentic effect. Eating a heap of ramen noodles, sushi, and takoyaki.   These are few of the reasons why Filipinos  eagerly want to travel to Japan. But going to this beautiful country is not as easy as booking a ticket and off to go. One must apply for a valid visa in advance. We will share our application experience as a Tourist Visa applicant and as a guarantor.
Basic Requirements
Applies to Tourist Visa/ Visit Friends or Distant Relatives(Cousins or Further Relatives) and Visit Relatives (Parents, Brothers/Sisters, Aunts/Uncles, or Nieces/Nephews)
1. PHILIPPINE PASSPORT
– Must have a validity of more than 6 months at the time of Departure from Japan
2.VISA APPLICATION FORM –  (Download Form Here)  SAMPLE FORM
3.PHOTO ( 4.5cm x 4.5cm ) WITH WHITE BACKGROUND – Must follow the standard photo. See below
4.NSO BIRTH CERTIFICATE OF APPLICANT – Must be valid within (1) year . Summer submitted over a year NSO Copy but was refused by the agency. Make sure you obtain a new one.
5.NSO MARRIAGE CONTRACT ( IF MARRIED ) – Must be valid within (1) year .
Supporting Documents
Self Sponsored
1.DAILY SCHEDULE IN JAPAN (TAIZAI NITTEIHYO) – Download Form Here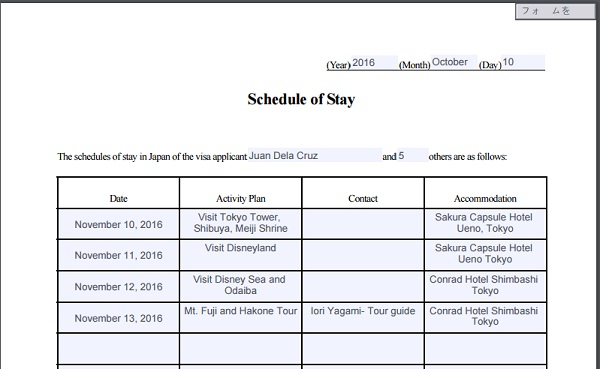 2.INCOME TAX RETURN (ITR Form 2316) – Original and Photocopy
3.BANK CERTIFICATE  – This is different from Bank statement. You have to personally request this document at the bank branch office.  Normally the information that would reflect is Type of Account, Current Balance, Date Account opened. But this differs from bank to bank. There is no specific amount required on the bank certificate but must be enough to support the number of days you intend to stay in Japan.
Guarantor/ Sponsored
1. GUARANTEE LETTER  ( MIMOTO HOSHOSYO) – Download Form Here – Must be with Signature
2. INVITATION LETTER – Download Form Here – Must be with Signature
3. FINANCIAL SUPPORTING DOCUMENT(S) by your Sponsor( Either of the three below)
    a. INCOME CERTIFICATE  (SHOTOKU SHOMEISHO) – from City Hall/ Ward Office (Japanese Citizen Sponsor)
    b. TAX RETURN CERTIFICATE ( NOUZEISHOMEISHO) – from Tax Office ( Ward Office)  – Sponsor who lived and work  in Japan starting 1st of January of the same year of application.
    c. BANK BALANCE CERTIFICATE ( YOKIN ZANDAKA SHOMEISHO) – You have to get it from Japan Bank branch Office. IT reflects your Monthly balance statement.  In Shinsei Bank, they asked me to print the last 3 Months of Bank Statements downloaded from Online banking. Then put a bank stamp. NOTE: Valid only for Three Months
4. RESIDENCE CERTIFICATE (JUMINHYO) – Please inform staff at your ward office its intended for VISA application. You will mention the purpose of visit and Name of Person who you will invite. NOTE: Valid Only for Three Months
5.DOCUMENT OF FILIPINO/JAPANESE RELATIVE IN JAPAN
    PASSPORT COPY – Picture Page and Visa/Stamped Pages
    COPY  OF RESIDENCE CARD – Bank and Front
Submitting Visa Application in Davao City
1.COMPILE ALL THE DOCUMENTS. NOTE: Do Not Submit Incomplete Documents
2. SUBMIT IT TO  ACCREDITED AGENCIES ( LIST HERE)
In Davao City, there is only one accredited which is Discovery tours
Discovery Tour, Inc
Door 109 G/F Court View Inn Bldg. Quimpo Blvd
Cor Sandawa Road, Davao City ( Beside Ice Giants)
MAP HERE
3. ASSESSED AND REVIEW ALL THE DOCUMENTS
4. PAY 2500 Pesos  ( INCLUSIVE OF VISA Application and Agency processing fee) – This is non-refundable and valid for one Visa application. NOTE: based in DAVAO CITY
5. Processing will take 5-10 Business Days. Summer got here within 5 Business Days.
6. Normally Agency will contact you either Approved/ Denied to  collect your Passport.
Hopefully, this article helps you to apply your  Japanese Visa application in Davao City.
Goodluck on your Application.
If you have any questions, Feel Free to drop the comment below.